Wilson Learning
Consulting
Scriptwriting
Story Design
Video Production
Video Editing
Brandon Hall Award
Best Use of Video for Learning
Wilson Learning has a wildly popular training program called "Negotiate to Yes," which featured master negotiator William Ury as its SME. Wilson's problem was that facilitators, consultants, and even learners were complaining about the dated video scenarios that accompanied the curriculum. Students liked to see how the negotiation principles would play out, but the quality and tone of the videos were well past their due date (see the image below).
Wilson needed a video production company that could make corporate training videos compelling, engaging, and relevant to the training curriculum. A traditional training video production company could not deliver on the drama and even their previous vendor hadn't updated its approach. Rich entertainment is everywhere, and platforms like Netflix, HBO, and Disney have made audiences more discerning about the level of quality they will accept. Sadly for a lot of training companies, this new media palate isn't always conscious, so they never know if learners are checking out and not paying attention until it's too late.
"The facilitator is absolutely thrilled and thinks [the videos] are outstanding! Really well received by participants. They have made such a difference to the quality of the program we are delivering."
Nancy Frevert
Director, Solution Development
More Dramatic Storytelling
Our storyline fit a more contemporary learning environment that was familiar with Wilson's target customer. Instead of a nebulous office space, we chose a tech startup. We created relatable characters that highlighted real frustrations within negotiation - rather than picture-perfect scenarios where everyone wins.
Peace of Mind Video Production
Wilson used to be extremely hands-on with their video vendors. Other video production companies even made them revise and write scripts! Our approach to video production let them relax without having to worry about liabilities or dropping the ball with their boss. This freed them up to focus on more important tasks, like marketing and selling the program with some great new collateral.
Finally, we really wanted the SME/presenter to look like an authority to Wilson's audiences. We included several details that would reinforce Wilson's brand in the video, even down to the color tie that Ury wore. See the comparison image below.
What Wilson Had
The talking-head portions of the training didn't have thoughtful lighting, and the location was a functioning office rather than a film studio. The frame was littered with unnecessary objects, with the presenter hiding behind the table. These distractions hinder learning and add to the cognitive load of viewers.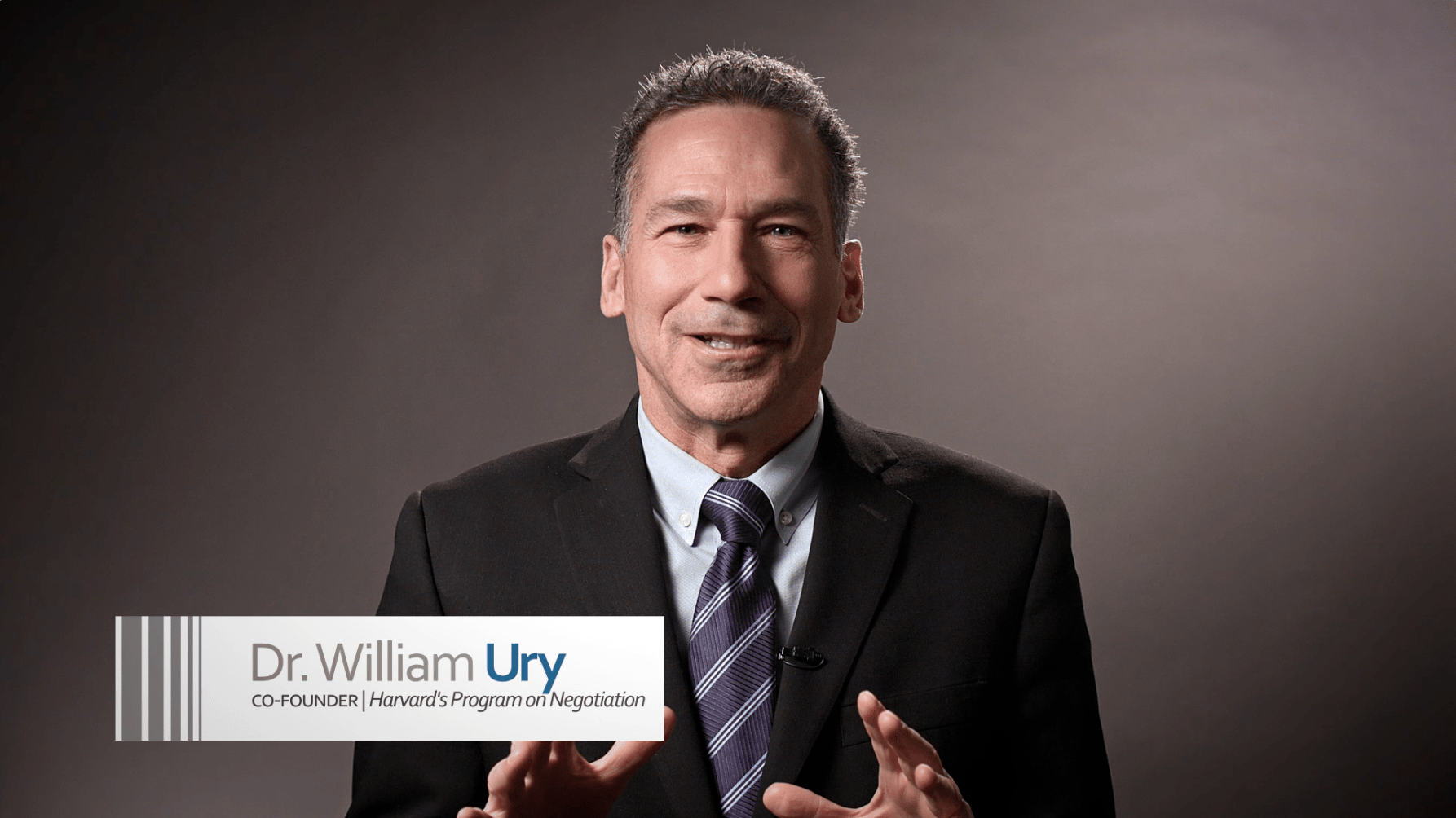 After Sage Media
We chose a clean frame. The gray backdrop symbolized the muddled nature of negotiation (with no position being truly black or white). We put Dr. Ury close to the camera because research shows that viewers like and remember faces more when they're close. We even subtly zoomed in when Ury was making poignant points, with the camera suggesting to the viewer, "Hey! This is important!"
Increased sales.
Salespeople selling hazardous waste disposal services saw a revenue increase of 53% over the year following the program – a return of more than $2.7 million on a $36,000 investment (a 75:1 ROI).
114 salespeople from a software application provider attributed $345,150 in additional sales to the program – a 24% increase.
Higher revenue.
A global fine art auction house increased revenue by 18% through the skills they learned in Negotiating to Yes.
A global express shipper increased revenue $14 million through new negotiation skills and consultative selling skills.
Better negotiating.
19 participants from a healthcare research provider attributed a total of $1.1 million in additional sales as a result of implementing "Negotiating to Yes" – a 13% increase (ROI of approximately 29:1).